NEVADA PTA CONVENTION
april 25-26, 2020
KIDS IN FOCUS
2020 Nevada State PTA Convention will be held in Henderson, Nevada at Nevada State College. We invite all PTA leaders and members to attend.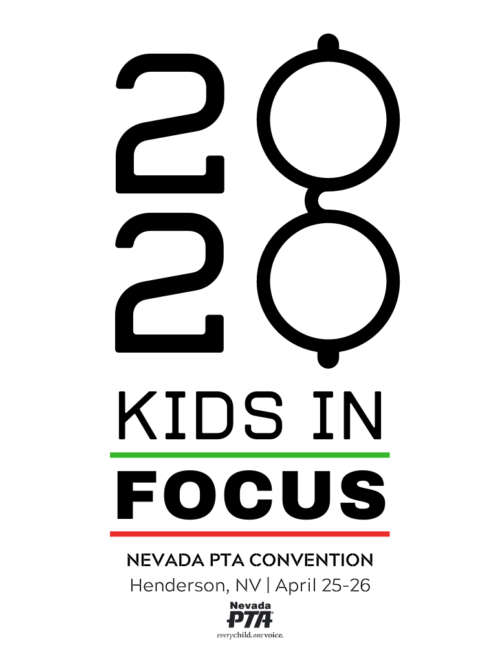 Preliminary Schedule
Saturday 
Nevada State College (8am – 5pm)
-PTA General Session & Business
-Workshops-Vendor Expo
-Luncheon & Reflections Spotlight 
Railroad Pass Hotel (7 – 9pm)
-Silver Star Banquet
Sunday
Nevada State College (9am – 2pm)
-PTA General Session & Business
-Workshops
-Optional Box Lunch
-Round Tables & Networking
Nevada State College
1300 Nevada State Drive, Henderson, NV 89002
$65 – FULL CONVENTION including Silver Star Awards Dinner.  Save $10 by purchasing together!
Special BOGO Savings through February 29th, buy one Convention Ticket and Get One for FREE!
$50 – Convention (all daytime events including breakfast on Saturday & Sunday and lunch on Saturday)
$25 – Silver Star Awards Dinner (held at Railroad Pass Hotel)
PLEASE NOTE:  Registration is required in advance. No tickets will be sold at the event. Standard Registration Closes March 23rd. If spaces still available registration ticket costs will increase. 
RAILROAD PASS HOTEL & CASINO
1500 Railroad Pass Casino Rd
Henderson NV 89002
Phone: (702) 294-5000
Toll Free: (800) 654-0877
CONVENTION RATE: Double Rooms for $69.99 per night (Fri/Sat) plus $7.99 service fee and applicable taxes. Extended nights (Thurs or Sun) are also available for $49.99 plus service fee and tax. Check In time is 4pm, Check Out is 11am.
Rooms must be booked via phone with rate code NVPTA20.
Blocked rooms available through March 23, 2020 or until sold out.
VENDOR FAIR – Community partners and vendors are invited to join us for Community Expo during Convention on Saturday afternoon, April 25, 2020 at Nevada State College.  Click here for the – 2020 Nevada PTACon Exhibitor and Sponsor Info.  For questions please email us.
MEET THE CANDIDATE – This year we will also have a Candidate Meet & Greet as part of the Community Expo. Candidates for public office may register for a table and share information with our attendees. All officially registered candidates may participate.  Nevada PTA and its local units are non-partisan and do not endorse candidates for office.  Candidates must pre-register to attend and information will be available soon.
Interested in becoming a sponsor? Nevada PTA appreciates sponsors who generously support the mission of the PTA. As a sponsor, your business or organization will receive special recognition during our annual convention along along with other benefits.  For more information on sponsorship please click here. 
silver star awards Dinner
Always a favorite Convention event!
Annual awards including membership and special awards will be presented during the dinner.  Make sure to purchase your tickets for this fun event.  Get the best deal by registering for the full convention ticket which includes Convention and the Silver Star Dinner for just $65.
Saturday, April 25, 2020
6:30 Reception | 7pm Dinner & Awards
Railroad Pass Hotel & Casino
Roaring twenties attire is encouraged!