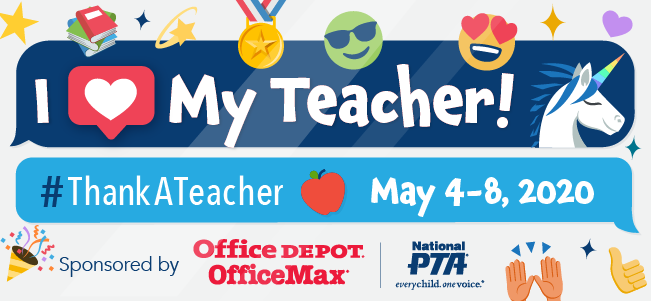 We LOVE Teachers!
Teacher Appreciation Week is May 4-8, 2020 and while school buildings may be closed we have never been more grateful for our amazing Nevada educators.  National PTA has created a tool kit with resources, graphics and fun ideas to help celebrate this important week virtually.  Make sure to visit the Nevada PTA Facebook Page too for additional ideas and content all week. Take time this week to #ThankATeacherNV and show that #WeLOVENevadaEducators.
COVID-19 Updates
School buildings are closed through the end of the school year in Nevada and students are participating in distance learning.  Pleasealso check with your district regarding distance learning and food services programs. Please contact Nevada PTA should you have any questions or need support. 
Please visit the Nevada Department of Education for additional updates. 
LEARNING AND ENRICHMENT RESOURCES 
Need ideas for learning at home? Online tools to help kids with math, science and reading? Visit the Learning and Enrichment Page to get links to dozens of resources for children and families.
CONVENTION
The Nevada PTA Convention, orgiinally scheduled for April 2020, has been postponed to Summer 2020. A date will be annouced once larger gatherings are again permitted in Nevada according per local public health officials. A virtual business meeting may be scheduled if convention is unable to occur until the Fall. We will email all leaders will the appropriate information.  
NATIONAL PTA RESOURCES
National PTA has many resources available for families and PTA units including newly released Notes from the Backpack. Click the images below to acces those resources.

A podcast for parents, by parents.  Who answers your questions about homework, bullying, school discipline, the transition to middle school?
Listen to Notes from the Backpack: A PTA Podcast and get the answers to the burning questions you have about how to best support your child's education and development. 
Updated Mailing Address
Nevada PTA's mailing address is: PO BOX 336583, North Las Vegas, NV 89033
Connect with Nevada PTA Online