LEAD Virtual Training SUmmit
Nevada PTA is excited to announce our upcoming L.E.A.D. Virtual Training Summit, October 20-24, 2020.  PTA members and leaders as well as the community are invited to join us for this inagural event focused on providing training, workshops and networking opportunities relevant for today.  Events over the course of the week will be a mix of live and recorded activities.  Most live, interactive workshops will be on Saturday, Oct 24th from 9-3pm. 
Registration includes a fun swag bag shipped to your home as well as a gift certificate for the Saturday Lunch and Learn event.  REGISTER by October 13th to get your SWAG!
L.E.A.D Training Summit Highlights
Opening Keynote – Anna King, President Elect – National PTA Tuesday, October 20th at 6pm LIVE
Happy Hour & Awards Celebration Friday, Oct 23rd at 7pm – Bring your favorite PTA mug (cocktail optional) to mix, mingle and celebrate the 2019-20 Nevada PTA Awardees.  We will also have a fun "How do you PTA" Contest for all units to enter!
PTA Virtually Workshop – Get inspired and share ideas for how to PTA virtually during this unique year! Saturday, Oct 24th LIVE
PTA Officer Training – Learn the essentially of managing the business of PTA and participate in breakout room training with other Presidents, Treasures and Secretaries. Saturday, Oct 24th LIVE
Laugh, Lunch & Learn on Saturday, Oct 24th we will start with a special guest comedian while attendees enjoy lunch delivery of your choice!  A gift certificate will be provided for registered attendees.
Creating Inclusive Family-Educator Partnerships –  A Conversation with Nevada Teacher of the Year L. Juliana Urtubey 
Counselor Corner with  Nevada School Counselor Association President Judith Morton-Pelto and 2021 School Counselor of the Year Leighanna Mainguy
Membership Rountable – Learn from local leaders about using MemberHub and 2020 Membership Campaign ideas. 
Advocate Like A Mother (or father, aunt, uncle or grandparent) – The heart of PTA is advocacy, learn about tools and ways to raise your voice!
And so much more! Join us to learn about PTA programs, engage with other PTA leaders, develop new skills and most of all have some fun at this inagural virtual event.
Events are a combination of live and pre-recorded content that you can access on demand making this a flexible event for our busy PTA leaders. Most live content will be on Saturday, Oct 24th. 
Can't make LEAD live? Registered attendees will have access to recordings after the event. This includes the required officer training that all Presidents, Secretaries and Treasures are required to attend annually. 
sponsorship Opportunities
Interested in being a sponsor for LEAD or sharing information with our PTA leaders as part of this event? 
CLICK HERE FOR SPONSORSHIP INFORMATION
Please email marketing@nevadapta.org for more information. 
Unit contest "How do you pta?"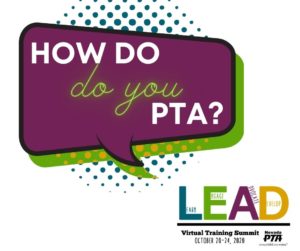 SHOW US HOW YOU PTA!
Who wants bragging rights and $100 gift certificate to the ShopPTA store for your PTA? Let's have some fun and show off your PTA unit's creativity. Units are invited to submit a video, photos or slides answering the question, "How do you PTA" for a special contest during the Friday night Happy Hour and Awards Celebration. Attendees will vote on the best submission. The winning unit will receive a $100 ShopPTA.com gift certificate.